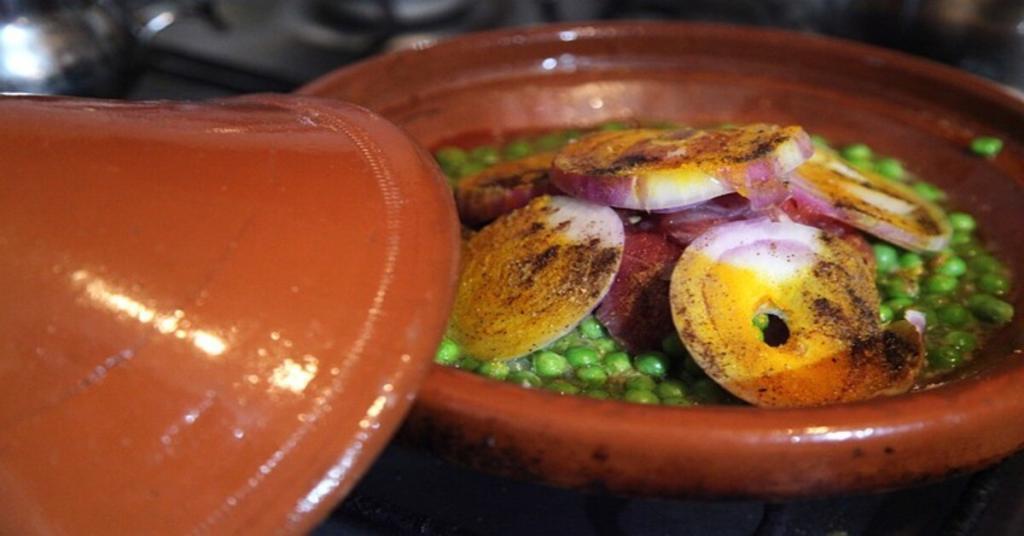 In Morocco, you can try the classic Arabian dishes – aromatic-spicy, incredibly tasty, always appetizing and very hearty. However, the national cuisine of the country is unique in many ways. We will tell you what to try in Morocco first of all. We will advise what to buy home to repeat these incredible dishes in your kitchen. Descriptions of Moroccan dishes with photos will help you not to get lost in this realm of flavors.
Tajin
Perhaps the most popular food in Morocco is a must-try. It is cooked in a dish with the same name, and the recipe is unique – in other Arab countries tagine turns out differently. It contains large pieces of lamb or chicken, lots of vegetables (potatoes, eggplants, onions, tomatoes), spices, and some honey and fruits. It is a great combination of spicy, salty and sweet flavors. This is a very flavorful dish, and the stewed meat and vegetables literally melt in the mouth, because they are stewed over low heat in their own juices for several hours.
Many tourists buy tagines in Morocco in order to cook the same dish at home. The idea is tempting, but consider whether your kitchen is adapted to its use. But it is worth buying spices for cooking this dish in the bazaar – they will come in handy.
Couscous
Every Arab country cooks couscous in its own way. Even within Morocco, you can find different variations of the dish that are definitely worth trying. They are always based on the same name cereal, vegetables, meat (lamb, chicken, sometimes beef, and sometimes all at once). Vegetables are cooked in broth with bone, cut coarsely so that they do not lose their shape. Groats are traditionally steamed in special couscous pots – hence the unique taste. Vegetarians in Morocco can try a vegetable version of the dish. The most popular type of Moroccan couscous is couscous au sept légumes (with seven vegetables).
Bring home some spices (the market vendors will tell you exactly what to take for a good couscous), some "right" groats, and everything else you can easily find in Russia. If you really like the dish, buy yourself a couscous maker to make real Moroccan couscous.
Harira
The most popular soup in Morocco. Fragrant, spicy, nourishing, rich, with a unique taste – it will conquer anyone. The thick Moroccan soup is made from lentils, lamb, tomatoes and a lot of spices. They often add some chickpeas, noodles and herbs. Harira is not spicy, rather a spicy soup with an unusual silky texture. It is really a very tasty dish. Very often this soup is prepared in hotels, as it is very popular even among Europeans.
To prepare harira at home, you can bring from Morocco some cereals, zira, paprika, turmeric, dried ginger and olive oil.
Bissara
The Moroccan bean sauce (or soup puree) bissara does not look too attractive, but it is still worth trying. It is traditionally made during the cold season, but it can be found in Moroccan restaurants and even in resort hotels in Morocco in any season. It is essentially a paste of broad beans with lemon juice, hot peppers and cumin, generously drizzled with olive oil. If the dish is thick, it can be spread on bread. And if the mass is more like soup, the bissara is not eaten with a spoon anyway – just dip the buns into it. It's really delicious!
Bring from Morocco concentrated lemon juice, a bottle of good olive oil, dried flat beans, cumin, red pepper – you can easily make bissara at home.
Mrouzia
Another unusual combination of sweet and savory that is so beloved in Morocco. Mrouzia is most often made with lamb with plums and raisins, but there are other options (with chicken or beef, for example). The meat is stewed in a broth with spices, ginger, and dried fruit, and then almonds, sesame, and honey are added. It may sound strange but it is really delicious. Meat cooked this way melts in the mouth – so tender. The sweetness of the dried fruits and spices bring out its flavor perfectly. This stew is served with something neutral: rice, chickpeas, and sometimes couscous. Be sure to try this dish in one of the restaurants in Morocco, it is really delicious – it is not cooked like this anywhere else.
Bring from Morocco dried fruits, a set of spices for meat, dried ginger of good quality to experiment with recipes in your kitchen.
Zaalyuk
The most popular salad in Morocco, often eaten by locals and much loved by tourists. It is made with eggplant and tomatoes. Vegetables are pre-baked and then mashed, generously flavored with garlic, fragrant zira, paprika, and fresh herbs. You can try the dish as an appetizer in company with unleavened tortillas or fresh buns.
In supermarkets in large Moroccan cities, zaalouk is available in canned form. And if you want to make it yourself, bring home some cumin and paprika.
Pastilla
Be sure to try this mouthwatering, flavorful, incredibly tasty traditional meat pie in Morocco. It is made on the basis of the thinnest puff pastry with lots of tender juicy filling. In the classic recipe, the pie is stuffed with the meat of young pigeons (don't worry, not street pigeons – they are raised on special farms). It is perfectly complemented by onions, aromatic sauce, nuts, spices, sugar – you get an incredibly interesting combination of salty and sweet flavors. This dish is easy to try in restaurants or eateries in Marrakech, Rabat and Fez. In hotels in Agadir, Essaouira, Tangier or other resorts in Morocco, the pie is most often made with chicken or fish.
To prepare this Moroccan dish in your kitchen, it is worth bringing almonds, cinnamon, and a mixture of spices from Morocco.
Rgaif
Do not miss the national Moroccan breakfast of rgaif pancakes with various appetizers. They look like Russian pancakes only in appearance – they are more like puff pastry pies with juicy fillings. The filling can be anything you like: meat, cheese, sweet almond or honey (you get almost baklava), or anything else. Or you can try pancakes without any toppings. Bean pasta, potato salad, spicy harissa pasta, vegetable salads and other snacks, as well as the national mint tea complete the standard breakfast. Lately, rgaif has become an increasingly popular street food in Morocco.
Walk through the bazaars of Agadir, Merzouga, Marrakech, or other Moroccan cities to find almonds, delicious honey, and fragrant spices. You can buy harissa in glass jars in supermarkets. This will help you make Moroccan breakfast at home.
Begrir
For breakfast, dessert or as a snack in Morocco, we suggest trying the delicious openwork pancakes based on semolina. They are really special. Of course, pancakes are made in many countries, but the Moroccan version of the dish is unlike any other. There are no eggs in the dough, semolina gives them an unusual taste, and the simultaneous addition of yeast and baking powder (which is generally not customary in cooking) makes them airy and puffy. They are even fried on one side only so that they retain their texture. Begrir is served with a delicious warm honey-based sauce with melted butter.
Bring back a jar of local honey from Morocco; it's different from Russian honey. You can also buy a couple of jars of exotic fruit jam – a great addition to begrir.
Shebakia
If you've ever tasted Soviet "ponytails," you can roughly imagine the taste of this Moroccan delicacy. The base is dough deep-fried to a golden crust. But there is still a difference. In our country they braid it in pigtails, while in Morocco they make it into a rose. The final piece of sweetness is not sprinkled with powdered sugar, but with a syrup made of rose water and honey. Sesame seeds are definitely added. It is not the most healthy for your body, but incredibly tasty sweet – try it, it is worth it.
You can buy rose water in stores in Marrakech, Agadir, Essaouira, Tangier and other cities to make your own Moroccan sweets at home. Be careful: it may be food or cosmetic. Shebakia can also be brought back in cooked form as a gift for your loved ones.